A gorgeous new conservatory is the best way to add space, light and value to your home. And with the change in planning rules meaning most conservatories are now 'permitted development', it has never been easier.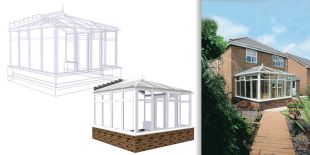 Concept to Completion
We provide a full 'concept to completion service' which involves us discussing your requirements, providing full 3D cad drawings, and then giving you a full quotation including all associated works – all at absolutely no obligation or charge.
Download our latest conservatory brochure
Click here to learn even more about this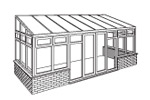 Lean-To / Mediterranean
The lean-to, or Mediterranean conservatory, is the simplest style of conservatory, with clean lines that give it a contemporary look and make them a popular conservatory for modern houses. This conservatory style will be ideal for you if you prefer the simple, understated lines of a Mediterranean sunroom.
Whether your lean-to conservatory is traditional or contemporary, the style is perfect for properties that have restricted space under the eaves, like a bungalow, or have an area that's too awkward to accommodate a conservatory. This is because the pitch of the roof on lean-to conservatories can vary – so a shallow pitch can fit under a low bungalow roof and a steeper one would be ideal for a terraced house.
Lean-to conservatories can also be called sunrooms or garden rooms.  They have a simple design and, with at least one wall already built, they save time and labour, which saves money. A Mediterranean conservatory style is not an expensive option, because of its simplicity, and with heating, electricity and water readily available from the house, installation and maintenance costs are lower.
A lean-to conservatory can also improve the energy balance of your house, provide shelter and catch the winter sun. You can use your conservatory as a greenhouse, a playroom, a dining room, lounge or kitchen. And now, with great features like floor heating and double-glazing available for your Mediterranean conservatory, you can have a new living area room for a fraction of the usual price.
---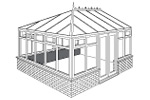 Edwardian / Georgian
The Georgian conservatory style, similar to the Edwardian style of conservatory, is characterised by lightness and airiness, with more subdued lines than the ornate Victorian style.
The Georgian conservatory style features a flat front and a square or rectangular symmetrical shape. This makes the Georgian conservatory a really handy shape for laying out furniture and plants, with no wasted space. The Georgian conservatory typically has a high, sloping roof style that gives a spectacular vaulted effect. Your conservatory floods with light, making it a bright, airy and uplifting room. Georgian conservatories were originally built on period homes from the 18th and early 19th centuries, and the style has been replicated on many neo-Georgian homes ever since. Own one and you've every right to feel posh, because the Georgian conservatory was originally the preserve only of those with style and the very rich who lived in stately homes. The Georgian conservatory was highly exclusive, coming as they did before the boom Victorian time for conservatories.
---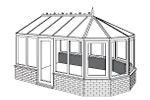 Victorian
The Victorian conservatory is the most popular style of conservatory. That's because the Victorian conservatory suits all house styles – be they period property or a new build. The Victorian conservatory springs most readily to mind when people think of conservatory styles.
The Victorian conservatory style includes a bay front, a steeply pitched roof and ornate ridge details. These days, of course, your Victorian conservatory, made out of modern materials such as uPVC and aluminium, is built to last.
Victorian conservatory styles comprise the three-facet Victorian, featuring a bay front with three main windows at wide angles, and the five-facet Victorian. This conservatory style also has a bay front but with five main windows for space as well as aesthetics.
---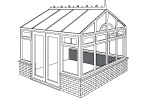 Gable End
A gable-end conservatory can add real grandeur to your home. Gable-end conservatories date back to the Georgian style, of which modern gable-end conservatories are a variant. With a gable-end conservatory, the front of the roof doesn't slope back to the centre. Instead, the front of the conservatory stays upright, like the end of a house. This is where the gable-end conservatory style gets its name from.
A gable-end conservatory is square or rectangular in style, like a Georgian conservatory. This gives you maximum space to plan the interior of your gable-end conservatory. The gable front of the conservatory adds style and also maximises light coming into the room, while the height of the conservatory gives the room a feeling of space. The gable roof provides a grand and stunning impact both inside and out, and the front of the gable-end conservatory looks like the rising of the sun. This is often called a sunburst effect.
A popular gable-end conservatory style option is extra brickwork – perhaps a three-quarter or full-height wall on one side to tie the conservatory in even more with the property. Whatever you choose, gable-end conservatories are a grand and majestic option for modern or period houses of any size and never fail to impress your friends.
---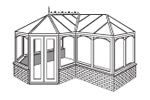 P-Shape
The P-shape conservatory creates a versatile style. This is because the conservatory extends in different directions. The P-shape conservatory is, therefore, ideal for using as two separate living areas. Modern families often use the longer part of the P-shape style as a lounge or dining area, with the rounded part being used as a children's play area. P-shaped conservatories often require larger proportions, so are better suited for larger detached properties, giving an impressive result.
The P-shape is a style that's ideal for larger, detached properties, combining a lean-to with a Victorian conservatory, which can be either three-faceted or five-faceted. When you combine a lean-to with a Georgian-style conservatory, this is called an L-shaped style.
The P-shape conservatory combines a mix of Edwardian or Victorian styles and is ideal for creating maximum space whilst keeping a sense of proportion in the property. The rounded part of the P-shape conservatory style can be specified in either a three- or five-segment design and the return part can have a hipped roof or a lean-to end. The beauty of the P-shape conservatory style is that it can add much-needed space to the house without swallowing up too much of the garden or requiring much in the way of garden redesign.
P-shape conservatories are versatile because at Ultraframe we can adapt the proportions of the main section and the rounded section to fit your available space and to ensure that each zone of the conservatory meets its intended purpose. At Ultraframe, P-shape conservatories come in a variety of styles and the rounded part of the design can be Victorian, Edwardian or gable-ended. Your P-shape conservatory can be in uPVC, hardwood or aluminium and in a range of finishes.
Your P-shaped conservatory can be of frame and glass, extending from the ground up or built on top of a dwarf wall to match the existing brickwork of your home. However you choose to have your P-shape conservatory, you'll find it an excellent way to combine Victorian and traditional styles, create an impression of light and space, and gain a versatile, dual-purpose addition to your home.
---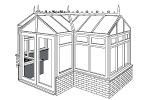 T-Shape
The T-shape conservatory style works best on larger properties. The T-shape is a combination conservatory style featuring a central projection. It can be Victorian, Gable or Georgian in style.
The T-shape conservatory is a very versatile style, allowing you to create two distinct living spaces within the one room. With T-shape conservatories, the central part projects into the garden, which exaggerates the sense of bringing the garden into the home. The central projection on a T-shape conservatory style can also create a 'porch effect'. This can highlight your elegant French doors.
The T-shape conservatory is not only one of the most beautiful styles available, but also works well in just about any home. Your T-shape conservatory usually comes in Edwardian or Victorian styles, with the top part of the T adjoining the house and the other section extending into the garden. The T-shape conservatory tends to be a large style and is a good way of making a traditional Edwardian or Victorian style bigger, perhaps for a larger family. The T-shape conservatory is better suited to larger properties – especially those with big gardens, as the part of the conservatory that extends away from the house tends to eat into the garden.
With two sections to this style, many people choose to use the large section as a dining room or to add extra space to their lounge, if this is at the back of the house. The smaller section tends to be used as a garden room. If you have children, it could also be used as a play area. This smaller area of the T-shape can be three-facet, five-facet or just straight-sided. On a large property, this conservatory section can look spectacular with steps leading down to the garden. At Ultraframe, we always go to great lengths to ensure that your T-shape conservatory matches the style of your house, whether it be period, modern or even a bungalow.
However you use your T-shape conservatory, you'll find its style gives you lots of space and versatility, as well as a beautiful shape that will enhance any property.
---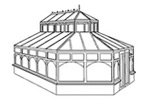 Lantern
The Lantern conservatory style was the original conservatory style when they were known as orangeries. For those with the right budget, a lantern conservatory style makes a fantastic statement of grandeur and elegance.
Lantern conservatories feature a two-tier conservatory roof on different levels, creating a 'wedding-cake' effect. The two levels are separated by a row of windows that is highly stylish and makes this style ideal for period properties of Victorian and Edwardian vintage, where relatively plain conservatories might not match the grandeur of the existing building.
The lantern conservatory is a style that is often chosen to house swimming pools, orangeries or for larger conservatories. Whether your lantern conservatory comes in brick and stone or classic glass style, it never fails to conjure up the glories of opulent living from an altogether different age.
With lantern conservatories, the overall impression is of height, light and grandeur. A lantern conservatory is spacious and offers an uninterrupted view of the sky. With a two-tiered roofing structure, you get to use more windows, which means that more ventilation is available. This feature of lantern conservatories is especially useful where the conservatory faces south or where condensation might pose a problem. For specific advice on this, please talk to one of the experts at Ultraframe.
The lantern conservatory style dates back to the 19th century when the Victorian gentry enjoyed the height and atrium effect. That's why you can see Victorian lantern conservatories at many stately homes and even at Kew Gardens.
While the two-tiered design of lantern conservatories is undeniably spectacular and the second tier of windows adds ventilation, their sheer height means they will likely need to be electrically operated, which of course simply adds to the sense of style and sophistication.
When you order your lantern conservatory, you might also consider adding coloured or stained glass in the vertical panels. This enhances the Victorian or Edwardian period effect.
A popular lantern conservatory style option is extra brickwork – perhaps a three-quarter or full-height wall on one side to tie the conservatory in even more with the property. Whatever you choose, lantern conservatories are a grand and majestic option for larger houses and never fail to impress your friends.
---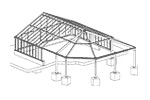 Large Span / Portal
Large or portal conservatories are unique and impressive structures made possible by Ultraframe's technical expertise and years of experience in this specialist field. Large conservatories are built using a supporting skeleton that sits inside the conservatory. This gives the large conservatory structural support and makes it an ideal venue for a hotel dining room or as a cover for a swimming pool or gym.
The large conservatory style requires extra support to take the weight of the roof and give extra stability. At Ultraframe, our dedicated team is always available to provide advice, estimates and technical information about portal conservatories. We will handle the complete management of your large conservatory project, from concept to design, planning and construction, right through to completion.
Large conservatory styles are most often used for swimming pools, allowing you to enjoy your pool all year round without worrying about the leaves, insects and weather issues that you get with an outdoor pool. You'll also save money on chemicals and maintenance by housing your pool in a portal conservatory. The large conservatory style is also perfect for a fitness room, Jacuzzi or spa.
How wide can large conservatories go without sub-structure support? Usually up to around six metres, although we would use tie bars in the roof. If your large conservatory needs a supporting sub-structure, it's usually made from high- grade aluminium or timber and needs to be fixed to the ground. When budgeting for your large conservatory, you should note that this supporting sub-structure must be approved by structural engineers.
Large or portal conservatories tend to need planning permission and usually building-regulation approval, too. As a reputable supplier of large conservatory styles, Ultraframe would include planning permission and building-regulation approval in our quote.
Some types of large conservatory – certain sliding enclosures and domes – don't need planning permission as they don't fall under the 'permanent structure' category. These large conservatory types are not as imposing as other portal conservatories, but they might fit your budget better. As a rough guide, expect to pay no less than £25,000 for the large conservatory style described here.
---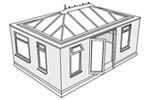 Orangery
Orangeries offer a slightly different take on traditional conservatories. And an Ultraframe orangery is a great way to add conservatory-style light and space to your home.
The orangery is basically a traditional, atrium-style conservatory, but with bang-up-to-date technology from Ultraframe. With an orangery, your adjoining rooms flood with light and there's a feeling of grandeur that comes from the interior height of the orangery.
Ultraframe orangeries, like conservatory styles, are both traditional and contemporary, falling somewhere between conservatory and traditional extension styles. With their brick pillars, orangeries offer more privacy than conservatory styles and the interior height provides a breathtaking focal point through which light floods in to your home. Your Ultraframe orangery will also offer a seamless link between your home and garden.
The orangery has its modern roots in 17th century Holland, when relations between the Dutch and the British were good. The concept, though, may be much older. There are records of buildings similar to orangeries in 14th-century France, and the Romans had built glorified greenhouses many years before that.
The word 'orangery' comes from the 16th century, when European aristocrats collected citrus trees. Initially, these orangeries (as the collection of trees was known) stayed in the gardens. But with the introduction of plant pots, they could be brought indoors into special rooms perfect for cultivating citrus trees in cooler climates.
The earliest known orangery dates from the late 16th century. It was built for the Surrey garden of Sir Francis Carew, whose friends brought back orange seeds from their trips abroad. Orangeries really took off in the 17th century, when orange trees began to be imported from Southern Italy. These plants wouldn't live through a British winter, so gardeners had to find a way to protect them.
The result was the first orangeries, constructed with south-facing windows to make the most of the sparse sunlight. In these orangeries, plants grew in pots so they could be transported outdoors in summer. For extra protection from the British winter, the orangery roof was filled with straw for insulation and the orangery's shutters would close at night.
By the early 19th century, some orangeries had underfloor heating, but their popularity was on the wane. Orangeries needed large, south-facing gardens, which meant they weren't always attached to the house, unlike conservatory styles. A further boost for conservatories was the abolition of window tax in 1845.
Today's orangeries, like conservatory styles, are generally buildings with glazed sides and brick or wood supports. Orangeries use less glass than modern conservatory styles.
Stand out from the crowd and choose the Ultraframe Orangery.
---
Glazed Extensions
Conservatories have always been an excellent way to blur the margin between home and garden, but Ultraframe is taking the idea to a new level with its Veranda glazed extension. The glazing bars in the Veranda glazed extension oversail and carry the glass with it, to form a 'cocoon' where you can sit in the garden and be protected from the worst of the elements.
Moreover, on a warm day – by using large in line sliders or bi-fold doors you then have a much bigger space to enjoy, perfect for family barbecues!
With subtle choices of supporting walls, the Veranda glazed extension can be a true cross over between a conservatory and extension.
The Veranda glazed extension features either the standard Classic or the latest Classic Plus roof, which comes complete with built-in tracks for fabric panelled shading devices called Shades. Inside the conservatory they feature a soft fabric to theme through with your choice of home furnishings whilst outside under the oversailing eaves/glazing they are manufactured from a hard wearing and weatherproof fabric, similar to that used in awnings.