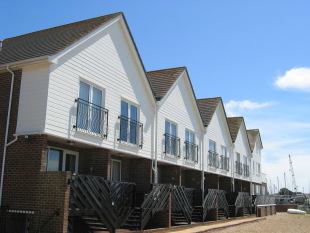 Does your home need Facelift?
Your roofline and cladding takes everything our British weather can throw at it and is difficult and costly to maintain.
Expertly replaced with the latest range of white, coloured, woodgrain and textured profiles, Facelift uPVC can eliminate these problems to give you a low maintenance exterior that enhances the appearance of your home and protects the important roof structure underneath.
Lets face it – your roofline and cladding is hardly the most exciting home improvement project you can do.  Because of this it is often neglected or skimped on, often with disastrous results to the structure and appearance of your property.
At Facelift uPVC we have been working in this field since the early days of the industry and work with some of the well known manufacturers in the development of some of the outstanding new products available today.
Our specialist installers use our own fast fit access systems, fully remove all existing timber, inspect, treat and prepare the underlying structure before fitting market leading profiles that will protect and enhance your home for decades.
Our clients often comment how they had approached this project from a "purely maintainence" point of view – but are then really surprised at the improvement to the appearance of their home.
Contact us now for your no obligation survey or just to discuss your requirements.