Your windows are a major feature of your home, so need careful consideration. They effect the energy efficiency, security, appearance, light, sound proofing and comfort of your home and, if chosen well, can represent a sound investment.
Here at Facelift we have taken all this into account to bring you the most stunning and versatile range of A+ rated, secure by design windows from a name you know and trust.
---
Energy Efficiency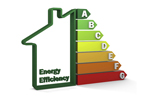 With rising energy costs and environmental concerns making the news on a regular basis, it's no wonder that energy efficiency is a high priority to the discerning homeowner.
Studies have show that your windows are responsible for around 20% of the total heat lost from your home, so reducing this represents a sound investment.
"…when upgrading from single glazed timber windows, to A rated windows, with a projected 20 year life expectancy, with an annual 9% fuel price inflation for a gas heated semidetached house. The expected saving would be £8143.39 and approximately 16.31 tonnes of CO2…" The Glass and Glazing Federation
Our outstanding range of A+ rated, multi chamber windows are designed to save you heat and money.
Using "Planitherm" glass – proven to be the best, warm edge spacers, argon filled units and a host of other technological advances, your new windows will – quite literally – pay for themselves.
---
Security
Security is something we all have to think about, but none of us wants to worry about.
At Facelift we have made it easy. Every window we supply:-
Is internally beaded – so the glass cannot be removed from outside.
Has a "secure by design" police approved shootbolt locking system.
Has locking, button release handles.
Has two stage locking system so you can lock it in a slightly open position.
Has interlock easy clean hinges with fire egress release system.
In addition, we have a range of additional security features available such as laminated glass, opener restrictors etc. Please ask your surveyor for advice if you have any specific security concerns.
---
Appearance
Your choice of window style can transform the appearance of your home. Our extremely popular range of casement windows is available in every layout you can imagine and probably some you never even thought of.
For large opening windows tilt and turn or fully reversible units give the perfect combination of great looks and practicality.
Our vertical sliding sash windows are perfect if you want to maintain that traditional look but gain all the benefits of the latest advances in thermal efficiency and security.
And if you want uPVC replacement windows that don't look like PVC at all, how about our stunning range of cottage windows – looking so much like timber you can hardly tell the difference. Just don't forget the're PVC and try to paint them!
Whichever system you choose we can incorporate external or internal Georgian bars, square, diamond or patterned lead, a range of woodgrain colours and textures and a range of 160 RAL standard colours.
Take your time to scroll through the gallery below to get some ideas, or if you have something specific in mind, contact us by one of the methods below and I'm sure we can help.
---
Light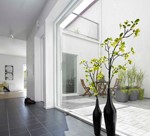 Light airy rooms are very desirable at the moment and our inovative range of windows help maximise the availble daylight in a variety of ways.
Slim profile frames to maximise glass area.
Really clear glass with no hazy appearance common to many thermal glazing systems.
All colours available as white internal.
Concealed gaskits.
If, on the other hand, you have windows that are just too bright and the heat and glare from the sun is making life uncomfortable, speak to us about our range of solar control glass, designed to reduce the heat and glare to a comfortable level, whilst still retaining the high thermal retaining properties of the glass for the winter.
We also offer clear and solar control glass with a self-cleaning option which has to be seen to be belived! Using the sun and rain the surface of your windows actually "shake" the dirt free keeping them clean and bright for longer.
---
Download our latest windows brochure
Contact us now for your no obligation survey or just to discuss your requirements.